PHY 3107
Advanced Modern Physics
Class Times: Tuesday & Thursday, 9:30-10:45 a.m. CP 101
Office Hours: Tuesday & Thursday, 1:00-3:30 p.m. CP 209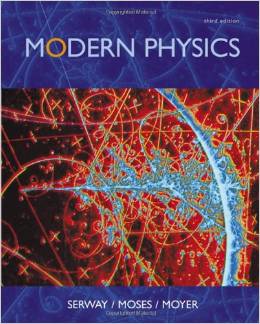 Instructor Prerequisites Text Objectives Grading Assignments Quizzes

Instructor:
Name: Dr. Pete Markowitz
Office: CP209
Phone: 305-348-1710
Email: markowit@fiu.edu

Department Home Page: http://www.fiu.edu/physics
Instructor Home Page: http://www.fiu.edu/~markowit
Prerequisites:
There is a single pre-requisite: Having passed PHY 3106 (Modern Physics I) with a grade of C or better (or permission of the instructor. That's me!).

Passing PHY 3106 implies obviously that you also have passed MAC 2312, PHY 2049, MAC 2311, PHY 2048. We will be using Blackboard for course management. You will need to use your FIU email account for all class emails. If you do not regularly log into your FIU account, you will need to set the forwarding (or start checking it regularly).

Textbook: Modern Physics, by Raymond Serway, Clement Moses and Curt Moyer, 3rd edition, published by Cengage Learning (2005), ISBN 0534493394. [Previous editions may also be acceptable; please check with the instructor.]
You will also need an iClicker for the weekly quizzes.
PHY 3107 launches from where last term's Modern Physics I course left off. Whereas Modern Physics I is a theoretical foundation for special relativity and quantum mechanics, Modern Physics II will let us apply that understanding to physical systems. We will pick up with Chapter 7, Tunneling, and move onto examples from atomic, molecular, solid state, nuclear and particle physics.
Course Format:
This course is primarily classroom based, however the grading is internet-based (i.e., Blackboard ). Solutions to homeworks will be available within Blackboard . You will be able to check your grade at any time using the recorded grades in Blackboard and the letter grade rubric below.

You will need an iClicker for the weekly quizzes.
Blackboard and e-mail will also be used throughout the course to facilitate communications between the instructor and students. For that purpose, you will need to use your official FIU email. If you were registered before the start of classes, you should already have received a welcome email from me.
Grading:
We will have two in-class mid-terms plus a cumulative final for the course. Grades are based on (random, weekly) conceptual quizzes, in-class whiteboard problem solving, the weekly assigned homework, mid-term examinations, and the (cumulative) final exam:

| | |
| --- | --- |
| Conceptual Quizzes | 20% |
| In-class Problem Solving | 10% |
| Homework | 20% |
| Mid-term exam I | 15% |
| Mid-term exam II | 15% |
| Final Exam | 20% |

Letter grades are approximately based upon the following scale:
| | |
| --- | --- |
| A | >91% |
| A- | 89-90% |
| B+ | 87-88% |
| B | 82-86% |
| B- | 80-81% |
| C+ | 78-79% |
| C | 73-77% |
| C- | 70-72% |
Assignments:
New reading and homework assignments will be added each week. Note that they may cover more or less than one chapter. These weekly assignments will be updated throughout the term. Students are encouraged to work with others on the homeworks, however all the work turned in must be the student's own.
Due Date

Chapter

Problems

<! 1>
11 January 2018

n/a

HW 1

<! 2>
18 January 2018

8



<! 3>
25 January 2018

8

HW 2

<! 4>
1 February 2018

9

HW 3

6 February 2018

Exam 1

Chapters 8,9

<! 1>
15 February 2018

9

HW 4

<! 2>
23 February 2018

15

HW 5

<! 3>
1 March 2018

13

HW 6

<! 4>
8 March 2018

14

HW 7

12-18 March 2018

FIU Spring Break



22 March 2018

Exam 2

Chapters 15,13,14

<! 1>
29 March 2018

11

<! 2>
5 April 2018

12

HW 8

<! 3>
12 April 2018

12

HW 9

<! 4>
19 April 2018

10

HW 10

24 April 2018

Final Exam

Cumulative

Quizzes:
Part of your grade will be based upon weekly quizzes. The quizzes will be short answer, primarily conceptual and will be random (although approximately once a week). Quizzes will be given within the first 5 minutes of class; no makeups or extra time will be allowed for anyone who is late to class or absent from class. Quizzes will be based on previous lectures, the readings due that day for class, and examples from homeworks previously due. We will be using iClickers for the quizzes!
Homework:
Homework problems must be neatly done, with each problem begun on a fresh page. Multiple problems on the same sheet or sheets with multiple solutions to the same problem will not be accepted. No pages with scratched-out work will be accepted -- if you spoil the page, begin with a clean sheet. Problems will not be accepted if the solutions are scribbled sideways, upside down, or at the edge of another problem. There should not be multiple columns on a single page. Paper does not need to be ruled, but cannot be torn out of a notebook.
Homework assignments normally are due at the start of class on the due date (e.g., 9:30 a.m. Tuesdays). As of 9:31 a.m., homework not turned in is late. Late homework will continue to be accepted for one week (7 days) for 50% credit. Homework assignments will not be graded or accepted if they are past due by more than 7 days. No credit or grading of homework turned in later than 7 days will be provided. Solutions will be linked from the Blackboard course page at that time. No make-up for missing homework is possible.