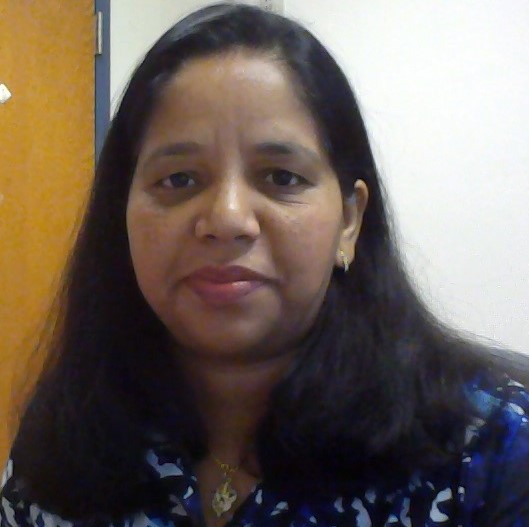 Dr. Florence George
Associate Professor (Statistics)
Dept. Of Mathematics & Statistics
Florida International University
Miami, Florida - 33199
Ph 305-348-3021
Email: fgeorge@fiu.edu
Florence George joined FIU as an Assistant Professor of Statistics in August 2007, soon after she graduated with her PhD in Statistics from University of South Florida. She did her M.S (Statistics) at Mahatma Gandhi University, M. Phil. (Statistics) at Cochin University of Science & Technology and Post Graduate Diploma in Computer Science & Applications at University of Kerala, all in India.
Dr. George started her career as a Research Associate at the Central Plantation Crops Research Institute (CPCRI), Govt. of India. After having worked for two years at CPCRI, she joined Marian College, one of the pioneering institutions under Mahatma Gandhi University, as a Lecturer in Statistics. She worked at Marian College for five years, after which she moved to the University of South Florida.
Florence's scholarship and research centers on Applied Statistics, Distribution Theory and Biostatistics. She has about 26 publications in peer-reveiwed journals and has served in numerous Masters and PhD committees. She is proficient in many programming languages, databases and editors like R, SPlus, SAS, SPSS, Oracle, Mat Lab, Latex and MS office, with proven record of certifications in SAS and Oracle.
Fall 2018 Courses
(Login to Canvas for syllabus, Notes, Announcement etc..)
STA 3111 online
STA 6244
STA 6196
Education
Ph.D.

(Statistics), Department of Mathematics and Statistics, USF, Tampa, FL, USA

M. Phil

. (Statistics), Cochin University of Science and Technology, India

Post graduate Diploma

(Computer Science & Applications)

, University of Kerala, India

<![if !supportLists]>

<![endif]>

M.Sc

. (Statistics), Mahatma Gandhi University. India
Research Interests
Certifications
SAS certified professional - SAS Institute .

Oracle DBA – SQL and PL/SQL – Oracle Corporation

Oracle DBA

- Architecture and Administration – Oracle Corporation
National Eligibility Certificate for Lectureship in Colleges/ Universities, - University Grant

Commission (UGC), India
Software Proficiency: R, SAS, S-Plus, SPSS, Minitab, Matlab, Latex, MS office etc.
Research Experience
Biostatistician, Moffitt Cancer Centre Research Institute , Tampa, Florida

, USA

May 2004 – May 2006

Research Associate (Statistics and Computer Science),

Central Plantation Crops Research Centre and

Institute (Govt. of India)

, Dec 92 – Aug 95
Teaching Experience
Aug 2014-till date :

Associate Professor in Statistics,

Department of Mathematics & Statistics, Florida International University, Miami, Florida, USA.

Aug 2007-Aug 2014: Assistant Professor in Statistics,

Department of Mathematics & Statistics, Florida International University, Miami, Florida, USA

Aug 2002 - Jul 2007 :

Teaching Assistant

, Department of Mathematics and Statistics, University of South Florida, USA

Aug 1995 – Nov 2000: Lecturer, Department of Statistics, Marian College, Mahatma Gandhi University, India
Courses Taught at FIU
STA 6176 - Biostatistics
STA 6196 - Statistics for Environmental Science
STA 6166- Statistical Methods for Research I
STA 6244 Data Analysis I
STA6247 - Data Analysis II
STA 5206, STA 5126, STA 4202 - Design of Experiments
STA 4321 - Mathematical Statistics I
STA 4322 - Mathematical Statistics II
STA 3163 - Statistics Methods I
STA 3164 - Statistics Methods II
STA 3193 - Statistics I for QBIC
STA 3194 - Statistics II for QBIC
Summer workshop on Statistical modeling for QBIC
STA 3033 - Introdution to Probability and Statistics for Computer Sciences
STA 3111 - Statistics I (both online and face-to-face)
STA 2122 - Introduction to Statistics I (face-to-face, online & hybrid)
STA 2023 - Statistics for Business and Economics (both online and face-to-face)