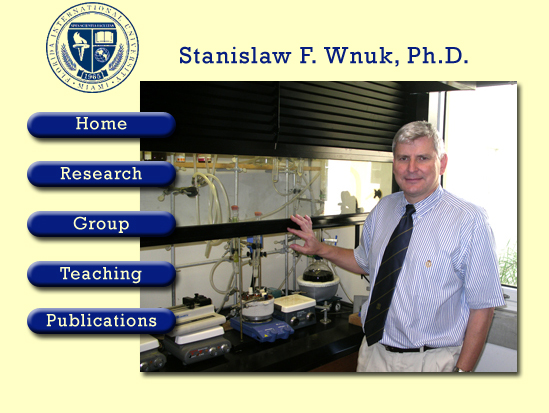 ADDRESS:
Department of Chemistry and Biochemistry
Florida International University, Miami, FL 33199
Tel (305) 348-6195; Fax (305) 348-3772
CONTACT:
wnuk@fiu.edu

RESEARCH FIELD:
Organic, Bioorganic and Medicinal Chemistry

BACKGROUND: (More Info in Stanislaw F. Wnuk's CV , Research Gate, Google Scholar)
B.S./M.Sc., Poznan Technical University, Poland, 1976.
Ph.D., Adam Mickiewicz University, Poznan, Poland, 1983
D.Sc., Adam Mickiewicz University, Poznan, Poland, 1995
Postdoctoral Fellow, University of Alberta, Edmonton, Canada, 1985-1986.
Assistant Professor, University of Agriculture, Poznan, Poland, 1983-1990.
Research Associate Professor of Chemistry, Brigham Young University, Provo, UT, 1990-1997.
Professor of Chemistry, Florida International University, Miami, FL, 1997-*
---
FIU Home | College of Arts & Sciences | Department of Chemistry & Biochemistry
---
Hasan Holander was awarded Dissertation Year Fellowship for AY 2020/21. For more on Hasan's research accomplishment. (click here for more details)

Dr. Wnuk with his former and present students Y. Liang, Z.-W. Wen, M. de Cabrera, and A. H. Howlader published comprehensive review on "Purines" in the monograph "Science of Synthesis" DOI: 10.1055/sos-SD-116-01081

Dr. Wnuk and Hasan Howlader submitted two patent applications in 2020. One on the "synthesis of iodoindenes", and the second in the collaboration with Professor Barry Rosen on the "Synthesis of the organoarsenical antibiotic Arsinothricin and derivatives thereof".

Hasan Howlader attended 259th ACS Meeting in April 2020 giving remotely oral presentation on synthesis of 5, 6, and 7-Iodoindenes.

Congratulations to Maria de Cabrera for defending her doctoral dissertations on Jun. 27, 2019.

Congratulations to Zhiwei Wen for defending his doctoral dissertations on Jun. 25, 2018. Dr. Wen currently holds a position of postdoctoral fellow in NIH/NIDDK in the laboratory of Professor Kenneth A Jacobson.

Dr.Wnuk's research group attended the 255th ACS National Meeting in New Orleans, Louisiana from March 18th to March 22nd, 2018 (Click here for photos)

Dr. Stanislaw Wnuk recieved patent award for "2-Methylthiopyrrolidines and their use for modulating bacterial quorom sensing" Patent WO 2012/174511 (Click here for photo)

Congratulations to Cesar Gonzalez for the Best Dissertation Award for FIU's Chemistry and Biochemistry Department 2017.

Congratulations to Paloma Tuttle for the Outstanding Achievement Award in Chemistry. In Fall 2018, Paloma matriculates in Harvard University's Chemistry program, where she will study applications of organic synthesis in chemical biology as a National Science Foundation Graduate Fellow.

Congratulations to Cesar Gonzalez and Sazzad Suzol for their defense of doctoral dissertations on June 26th and 28th, 2017.

To celebrate accomplishments of Yong Liang, Jessica Zayas and Ramanjaneyulu Rayala on their graduation, Dr. Wnuk organized farewell fishing party @ Bayside Marketplace Marina in Miami on July 19, 2015. (Click here for photos).