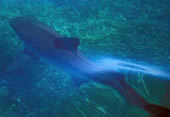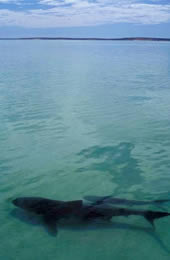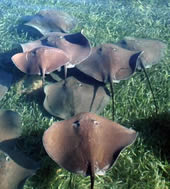 Get Involved!
There are a number of opportunities for getting involved in research in Shark Bay including volunteering as a research assistant or participating in our research experiences for middle school teachers program. These opportunities are limited, but you can get involved by using the educational resources on this site at home or in the classroom and becoming an advocate for conserving marine communities in general! Also, if you or your company are interested in helping out the research we are always very thankful for any support we get!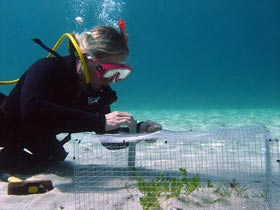 Research assistantships
Several times a year, SBERP accepts applications for volunteer field assistants to aid in one or more of its projects in Shark Bay. Generally, the positions last for 3 to 6 months and take place all year round. Assistants selected in the past generally have, or are working towards, an undergraduate degree in biology or resource management with previous field experience.
While the experience of working in Shark Bay is one few forget, there are several important things to consider before applying to become a SBERP field assistant.
While an assistant's room and board are always provided, SBERP only has limited funds to provide for travel expenses by undergraduate students and most assistants must pay for their travel to and from Shark Bay.
Shark Bay/Monkey Mia field station is REMOTE. Basic services (groceries, fuel, hardware) are available nearby but there is very little else.
Shark Bay/Monkey Mia field station is REMOTE. Accommodations are limited at this point to caravans (mobile trailers) and their covered annexes. Assistants are generally housed in bunks in the latter. Living conditions are cramped and privacy limited. Bathroom and shower facilities are located nearby and are shared. Payphones are located in the nearby campground with international phonecards available at the camp shop.
Medical services in Shark Bay are extremely limited. There is a nursing station nearby but no physicians. If you require regular medical services or checkups, this is important to consider.
The work we do is physically and mentally demanding. Long, irregular hours; environmental extremes (heat, cold, wind, rain) and tasks requiring strength, dexterity, and mental acuity are the norm.
Familiarity with the operation of light, motorized watercraft is strongly preferred. Proficient swimming skills are essential. SCUBA certification is a plus and for some projects is required.
The work is demanding, but the rewards are great. Shark Bay is one of the most unique and beautiful places on our planet. Most of our assistants leave with fond memories, fantastic personal and professional experience, and plans to someday return to Shark Bay. If you think you're up to the challenge, contact Dr. Michael Heithaus at Florida International University for more information on applying.
Research experiences for middle school teachers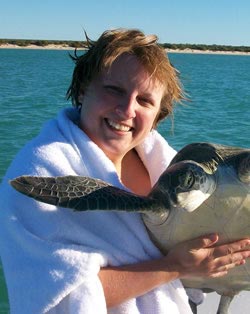 Thanks to a grant from the National Science Foundation, we were able to host nine middle school teachers from the US during the austral winter (summer in northern hemisphere). Teachers were part of our research teams for periods of 2-3 weeks and participated in all aspects of the projects. During and after the stays, worked with these teachers to develop and enhance educational materials and lesson plans based on Shark Bay that can be used in middle school classrooms in the US, Australia, and around the world. Graduate students corresponded with the teacher's classes during the school year and traveled to their schools to give talks.
Unfortunately, we are unable to offer these experiences at this time due to a disruption in funding for the program. We are, however, actively seeking means to reinstate the program so keep checking back for updates!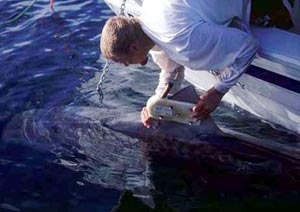 Donations and sponsorships
Marine habitats and biological communities around the world have been, and continue to be, modified substantially by humans through the destruction of habitats and the tremendous reduction of populations of large predators like sharks. It is critical to be able to predict how human activities (fishing, habitat modification) are likely to influence current marine communities if we are going to draft adequate conservation strategies or begin to restore marine communities to a more natural state. Many studies have documented changes, but we need to understand how a relatively untouched community functions in order to move towards maintaining one.
Studies of pristine marine communities are extremely difficult because there are few areas where humans have not made major changes. Also, those systems that are relatively untouched are usually very remote and hard to work in. Shark Bay provides a unique opportunity to work in a relatively pristine system that still maintains large populations of sharks, turtles, dugongs, and other species that have been virtually removed from many other areas of the world. By working in Shark Bay, we can learn how an intact system should function. This information can in turn be applied to the management and restoration of more heavily human-impacted ecosystems in other parts of the world.
Even with limited resources, the Shark Bay Ecosystem Research Project is beginning to unravel the dynamics of the community of large vertebrates in Shark Bay. We have already published over 35 scientific papers on our work in Shark Bay and many more are currently underway. We also work hard to get the results of our research out to the public and to key government agencies:
Our work has been featured in major reports on ocean conservation by the Lenfest Oceans Program(click here for the report) and Oceana.org (click here for the report).
Our researchers give public lectures several days a week during the entire time they are in Shark Bay and we also talk to elementary, middle, and high school students around the country in the United States.
Our work has been featured in numerous television documentaries and shows, radio interviews, newspaper, magazines and online articles.
Our research results and conservation recommendations are all shared with the Department of Environment and Conservation in Western Australia (DEC) and we work with DEC collaboratively on several management and research projects on turtles and dugongs.
Finally, in Shark Bay we partner with the Yadgalah Aboriginal Corporation, the traditional users of marine resources in Shark Bay, for many of our projects.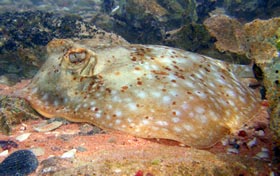 Your donation or sponsorship can help us continue and expand our important research and outreach.
While most of our research funding comes through grants from the National Science Foundation (USA), Natural Science and Engineering Research Council (Canada), National Geographic Society, and other agencies, we are constantly in need of sponsorships and donations to maintain and upgrade our facilities, initiate new studies that will lead to major research grant proposals, and enhance our education and outreach programs.
Our work so far would not have been possible without the help of several generous companies, and our future success depends on the continued generosity of our sponsors.
How will your donation be used?
In the coming years, we hope to greatly expand our links to primary and secondary schools and the public but we will need funding to hire an outreach coordinator. We are also a rapidly growing program and we need to build the group's infrastructure (especially our caravans - many of which are more than 25 years old), which is not covered by research grants. We also hope to enhance vehicle support. Every bit of support is greatly appreciated and is a huge help. Some of the more expensive items that we hope to obtain in the near future include:
Satellite transmitters and satellite time to track long-distance movements of tiger sharks ($2,000 each) - recent indications of declines in tiger shark populations along the Western Australian coast make it imperative that we determine where tiger sharks are moving when they are outside the Shark Bay Marine Park to ensure that they are adequately protected. Our initial studies show they can move a long way, but further studies are critical to determine exactly where and how long they spend in areas where they are at risk.
Acoustic monitoring stations used to determine movements of rays, turtles, and other species within our study area ($1,100 each).
Acoustic transmitters used to track ray and turtle movements ($250 each).
TDR's used in turtle diving studies ($1,200 each).
A technician to aid with fieldwork, maintain and build this website and enhance our education and outreach programs.
Those expensive repairs of motors and vehicles that always seem to pop up unexpectedly!
Initiation of studies along Dirk Hartog Island in the Western Gulf of Shark Bay - a pristine coral reef community bordering Shark Bay's seagrass beds. These studies may help us determine what coastal coral reefs used to be like before they were degraded.
All photographs copyrighted; Images may be used for educational purposes. For use in other forms contact Mike Heithaus