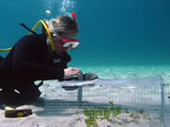 Major funding for our research has been provided by the National Science Foundation (US) and NSERC (Canada) with numerous smaller grants from the PADI Foundation, National Geographic Society Expeditions Council and Comittee for Reserach and Exploration, American Museum of Natural History Lerner Gray Fund, the Society for Marine Mammalogy, and the Columbus Zoo.
Our work would not be possible, however, without the generosity of numerous companies who have donated or provided discounts on space, facilities use, or equipment. First and foremost we thank ASPEN PARKS' MONKEY MIA DOLPHIN RESORT for years of support and providing living space and facilities for us from the begining of our work. We truly are greatful for all the support we have received no matter how big or small but we would like to send a special thanks to some of our recent major donors including JOPALO BOATS for the discount on our new research vessel Blowfish II and BRP AUSTRALIA for partial donations of two Evinrude Etech engines. We thank SUBMERSIBLE SYSTEMS and THE AIR LINE for their help with our diving operations. Below are links to the institutions and companies that have provided us with support over the years.
If you are interested in becoming a project sponsor, please click on our Opportunities page to see how you can help!
Academic
Florida International University, Department of Biological Sciences
Home Sponsoring Institution, United States
Simon Fraser University, Department of Biological Sciences
Home Institution, Canada
The University of Western Australia, School of Animal Biology
Logistical and Laboratory Support
Corporate
ASPEN Parks; The Monkey Mia Dolphin Resort
Invaluable Logistical support and accomodation. No research would be possible without the generous support of Dean Massie and the resort.
The Yadgalah Aboriginal Corporation, Shark Bay
Field support and guidance
Jopalo Boats
5m Centre Console Runabout
Evinrude/Bombardier
Evinrude Etec 75 hp outboard
Submersible systems, INC
Two Spare Air Redundant SCUBA systems
The Air Line
Discounts on equipment
Humminbird
Discounts on equipment
Shotover Wildlife Sightseeing Tours
Field support, financial support
Australian Pinnacle Tours
Free transportation to remote field sites
Singapore Airlines
Discounted airfare and free extra baggage
Shakespeare Marine VHF Tranceivers
Discounts on equipment
Tony Burkholder
SBERP Logo Design
Navman Global Positioning Equipment
Discounts on equipment
Pelagic
Equipment donations
Jeppeson Marine USA
Equipment discount
Leading Edge Computers
Discounts on computer repair
National Geographic Remote Imaging
Equipment donations and loans
Financial Support and Grants
The National Science Foundation (NSF), USA
Research Grants
NSERC, Canada
Research Grants
National Geographic Society, Expeditions Council
Research Grants
PADI Foundation
Research Grants
Columbus Zoo and Aquarium
Research Grants
Australian Geographic
Research Grants
PADI Aware
Research Grants
Partners
The Dolphins of Monkey Mia Research Foundation
Side-by-side field support, guidance, and accomodations
Department of Environment and Conservation (DEC), Western Australia
Field and logistical support, laboratory and office space, permitting and generally good-natured helpfulness
Department of Fisheries, Western Australia
Guidance and permitting