"I like a teacher who gives you something to take home to think about besides homework."
~ Lily Tomlin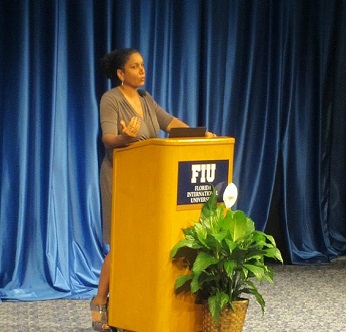 Since coming to Florida International University, I have taught at both the graduate and undergraduate level in the Department of Psychology and other programs, including African and African Diaspora Studies (AADS), Women and Gender Studies, Liberal Studies, and the Robert Stempel School of Public Health.
Through my teaching and mentoring efforts, I foster academic excellence using interaction all and cross disciplinary approaches. As part of this process I actively validate and center my students lived experience in the research we examine. The goal of this is to help students become informed enough and skilled at contributing to critical and creative problem solving. It is also important to note that I view the classroom as only one of many spaces where students learn. This is why I encourage students to take advantage of research training, study abroad programs, and service learning opportunities to enhance their academic journey.
Teaching across disciplines... and the world!
As the Director of the Department of Psychology's Global Health Research Study Abroad Program, I take 12 undergraduate and graduate students to examine global health issues in Mysore, India. Topics explored include cultural factors influencing intimate partner violence, prenatal care in rural communities, HIV/ AIDS, medical tourism, perceptions of ADHD, legal/ medical connections in reporting abuse, and wholistic health interventions.

This competitive program prepares students for graduate or medical school. Toward this end, they are given the opportunity to visit academic and research institutions, and interact with health providers, patients and community organizations working on related health issues.
Learn More