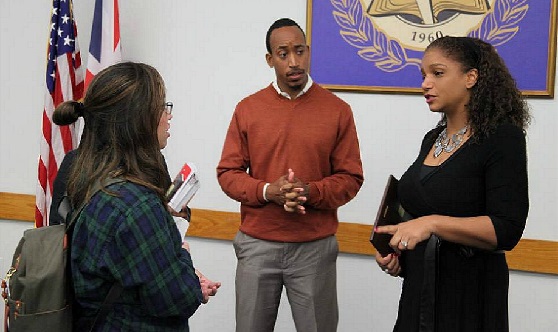 "None of us got where we are solely by pulling ourselves up by our bootstraps. We got here because somebody- a parent, a teacher, an Ivy League crony, or a few nuns- bent down and helped us pick up our boots."
~Thurgood Marshall
In my role as a faculty member, I supervise both graduate and undergraduate students engaged in research. Undergraduate students are mentored through the Health Disparities and Cultural Identities (HDCI) Research Lab. Other undergraduate students become my mentees through research fellowship programs like the Ronald E. McNair Scholars Program, Honors College ARCH, or Global Health Research Study Abroad Programs. Undergraduate students interested in working with me should
apply through my Culture, Context, Health & Identities (CCHI) Research Lab
At the graduate level, I serve graduate students' dissertation and theses committees across disciplines, in addition to advising my own doctoral students (see below). I've enjoyed contributing to the development of graduate students' research foci across disciplines, including anthropology, education, geography, nursing, public health, sociology, and social work. Students that need expertise in the areas of gender or racial/ ethnic identity development, sexual health, gender based violence, popular culture, health disparities, or qualitative methods typically ask me serve on their dissertation committees.
---

Information for Potential Advisees
Potential doctoral students are encouraged to contact me before applying. It is important that we ensure that we have similar interests and goals prior to the review of applications. Further, there are several things to consider and ask prior to applying to work with any faculty advisor. Finding a person with whom you can work is often more important, in my opinion, than finding a person sharing your same research interests; quality mentorship involves more than simply providing field training and discipline advising. Read these articles from Columbia Graduate School, UChicago Biosciences, Inside Higher Ed, CMU ML Blog and The Grad Cafe for insights into what to consider when seeking a mentor for your graduate journey.
---
TAKE TIME TO Connect with my CURRENT & FORMER Doctoral Students
It is critically important to gather perspectives about the graduate student experience from graduate students. Potential doctoral program applicants are strongly encouraged to contact any of my current and former graduate students to find out more about their experiences, both as doctoral students at FIU and working under my supervision. The links provided on the left offer a comphensive overview of key questions you may want to consider asking; please go through these to ensure you get accurate and relevant information.
Meet My Graduate Students
---
Applied Social & Cultural Psychology Program
Currently, I serve as the primary faculty advisor to doctoral students in the Department of Psychology's Applied Social & Cultural Psychology (ASCP) Program. The ASCP Program provides advanced training in the application of social and cultural psychological theories and methods to address real-world problems, and to promote optimal life outcomes for diverse populations. Potential applicants are welcome to contact me to discuss which how the ASCP Program's foci can support their career trajectories after reviewing the program description and admission requirements.
ASCP Program Info