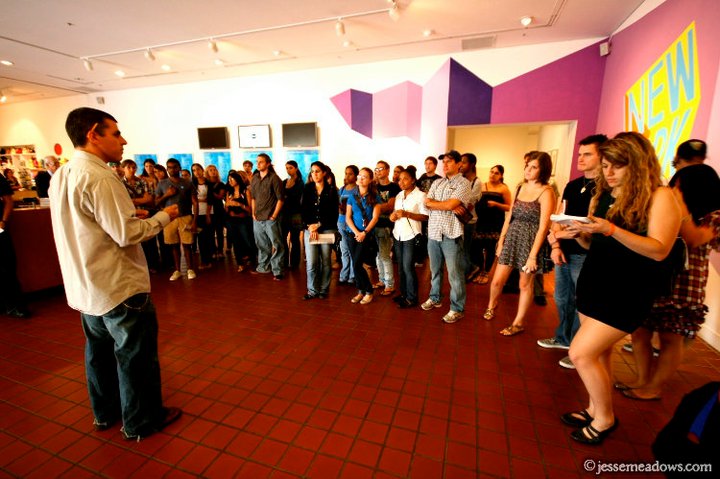 SUPPORT AESTHETICS & VALUES
An annual exhibition organized by the Honors College at FIU, Aesthetics and Values empowers 40 students from a range of disciplines to become curators as part of a year-long course that culminates in a showcase of acclaimed artists. From the curatorial vision to installation design, students oversee all facets of the exhibition, fully immersing themselves in the art world (new to most) while exploring the connections between creativity and social dialogue. Since the inaugural course in 2006, the exhibition reception has evolved into one of the most highly attended events at the Frost Art Museum, attracting 1,000 people. The five-week exhibit attracted over 100,000 attendees during the first 5 years, making waves of impact as these students become engaged and informed lifelong connoisseurs – future leaders of South Florida who are fully aware of the power of art as a social language. Beyond our community, national recognition includes presentations to the Clinton Global Initiative, Rotterdam University of Applied Sciences, and annual representation at the National Collegiate Honors Council Conference.
The Aesthetics & Values program can recognize sponsors in three manners: (1) online: on official website and social media, (2) printed catalog: catalog is distributed nationally, and (3) exhibition reception: sponsors may be able to present displays at the exhibition reception. Please contact Professor John Bailly, baillyj@fiu.edu, for more information.